Transport trolleys
Transport trolleys
G®-TRANS made of aluminium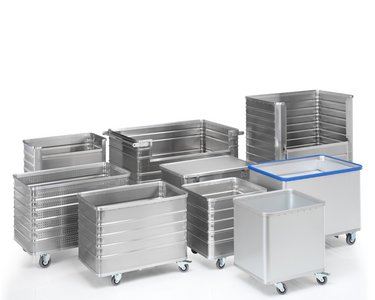 Gmöhling's versatile transport trolleys are available in different sizes and versions. Standard versions include trolleys with smooth, ribbed, perforated and anodised sides.
An essential feature of our transport trolleys is the cut-out/hinged or sliding panel on one side for ease of loading and unloading.
Our light and robust transport trolleys have multiple uses for storage and transport in your logistics. They have proved themselves over the years in many sectors such as industry, the automotive, disposal and pharmaceutical industries and the hospital, laundry and catering sectors, etc.
We offer various wheel systems according to load weight to guarantee easier handling. We can also supply transport trolleys with an appropriate hinged lid to your required size.
---
Maximum transport capacity with minimum own weight -
these are the features of our robust
and durable transport trolleys.
Advantages of the G®-Trans
For universal use
Hygienic, odourless and corrosion-resistant
Robust and dimensionally stable with a low net weight
Beading provides stability and rigidity
Easy handling and ergonomic, even at maximum load
Many versions with different load capacities
Extremely stable design due to metal joints with the latest technologies
Swivel castors with brakes in accordance with European standard EN 1757-3
---