Cupboard trolleys
Cupboard trolleys
made of anodised aluminium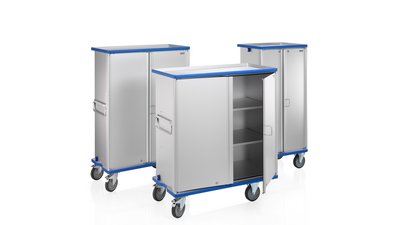 The Gmöhling cupboard trolley can do it all, regardless of where it is used. Hospitals have relied on it for years as a transport trolley and storage trolley for dirty and clean linen, as an operating theatre trolley and as a dinner trolley. The cupboard trolley can also be used for the transport of sterilised materials, or in sterile areas.
Thoughtful design down to the very last detail - proven in the day-to-day work of hospitals all around the world.
Our anodised cupboard trolley also complies with the highest hygiene standards and impresses with its ease of handling and cleaning, durability, variability, ergonomic perfection and first-class quality.
The areas of use for this trolley are extremely diverse. It is equally well suited for use as an in-house tool trolley, a costume trolley for the theatre, opera, films and shows and a mobile office, as well as in schools and public institutions.
Our multi-purpose cupboard trolley can be configured according to need.
Below is an overview of the cupboard trolley's specific design.
Cupboard trolleys
of all types and models
... the multi-purpose trolley
that meets the highest requirements
Advantages of the G®-CUP
Anodisation protects against abrasion and corrosion
Long service life due to high-quality workmanship
High degree of stability with a low net weight
Dustproof and splashproof
Easy handling and ergonomic, even at maximum load
Various internal and external trolley configuration available
Swivel castors with brakes in accordance with European standard EN 1757-3
---