Serving trolleys
Serving trolley made of aluminium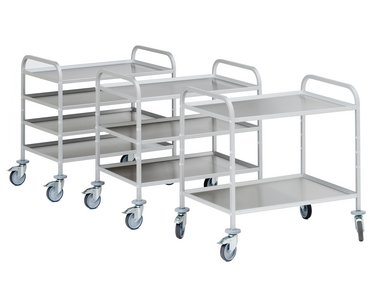 The Gmöhling serving trolley is modular in structure and thoughtfully designed to the very last detail. We offer trolleys with 2, 3 or 4 shelves. The height and number of shelves can also be changed. The shelves are also available in 2 versions: in aluminium or stainless steel.
To cut transport costs, we offer our serving trolley in an unassembled basic version for easy self-assembly.
The serving trolley, also referred to as a shelf trolley, is used for serving, transport and temporary storage. A practical aid for use in kitchens, laundries, hospitals, old people's homes, companies and various institutions.
---
Hygienic, good service
and fast
those are the requirements
that serving trolleys must meet.
Advantages of the G®-SERV
Modular design available with a choice of 2, 3 or 4 shelves
A choice of aluminium or stainless steel shelves
Height position and number of shelves can be subsequently changed
Practical for a wide range of uses
---