Additional equipment for aluminium cases
Additional equipment for aluminium cases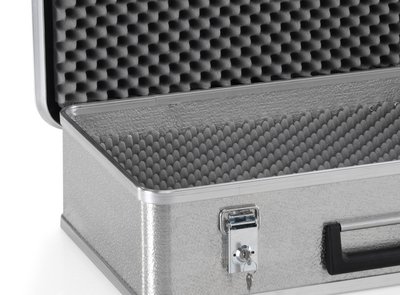 Our transport cases, also referred to as equipment cases, are specifically designed for the safekeeping and transport of high-value and sensitive goods. Optionally these cases are also fitted with foam blocks or pyramid foam to ensure that your products arrive at their intended destination without the slightest scratch and in full working order.
To date, our equipment cases are used for highly sensitive electronic devices, such as measuring and testing devices, for the transport of precious metals, sports equipment, telecommunication devices, high-grade audio components, laptops and musical instruments.
Product description
Pyramid foam provides effective shock resistance for sensitive equipment of different shapes and sizes.
Cubed foam can be used for a perfect fit around items:simply use a sharp knife to cut away the foam to make space for the item where you would like to place it.
---
Additional equipment for aluminium cases
Item
Suitable for
Order number
Query
Pyramid foam
????
Case A 1439 / 19
045143901
????
Pyramid foam
????
Case A 1489 / 24
045148901
????
Pyramid foam
????
Case A 1539 / 36
045153901
????
Foam blocks
????
Case A 1439 / 19
045143902
????
---
Downloads
---
Is the size or version you need not listed in our varied product range? No problem! We also produce in small batch runs.
Just ask!
E-Mail: info@gmoehling.com